The recent unexpected news that has caused a massive stir, debates, and arguments across all social media platforms was when the Akufo Addo government was exposed again over the arrest of 20 Togolese nationals in the country.
Not long ago, 20 notorious Togolese nationals who only spoke French were unexpectedly arrested in the Volta region for engaging in illegal activities aside from other unlawful practices.
With respect to this, the US-based Ghanaian broadcast journalist, Kelvin Taylor has boldly come out to drop serious allegations against the Akufo Addo and NPP government ahead of the most anticipated 2024 Presidential elections.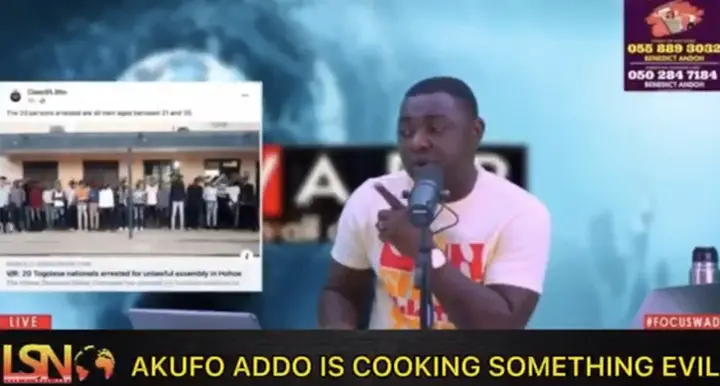 "Aside from these Togolese nationals, Ken Dapaah has also arrested about 83 individuals who are also not Ghanaians and kept at Nsawam without any criminal records nor cases. Those arrested individuals are from Benin and other African countries. Now, they've intentionally arrested another 20 Togolese nationals; they want to use them for that damage. I always tell Ghanaians each day that, the President and his government are cooking something that will strip our democracy from us. The NPP know what they are doing; let's not joke with these issues", Kelvin Taylor emphatically stated.
Source: Operanews
About Post Author