Unexpected news coming in as confirmed by the Daily Graphic National Newspaper indicates that, a popular Ghanaian Gospel Musician Daniel Toffey has died. The young man reportedly died in United Airlines while travelling to the United States of America.
According to further reports, he had come to Ghana with his father to attend the funeral of his in-law. On his way to abroad, Daniel Toffey reportedly experienced a suffocation in the middle of the flight.
Doctors reportedly traced the suffocation to a defect called pulmonary embolism which usually clots the blood from the legs though to the lungs. Blood flow is then ceased to suffocate the victim to death. Pulmonary embolism have some slight resemblance with cardiac arrest. However, unlike cardiac arrest which kills the victim without any movement of the body, Pulmonary embolism is otherwise.
Daniel Toffey reportedly kept screaming to his dad. " Daddy I can't breathe. I'm dying ". Over 14 doctors on the flight reportedly did their best but Daniel Toffey couldn't survive.
Further information revealed that, Daniel's father who is an old man jumped from his first class seat towards his dying son's direction. That was when air hostesses announced that everyone should be in his seat in order not to cause any accident in the sky.
Due to what happened, the flight was reportedly transited at Bermuda for 15 hours until the other travellers were carried away to their destination in Washington DC.
Daniel Toffey was set to launch his greatest album with another super star Joe Mettle on June 4th.
His brother Isaac Quaye also took to his Facebook page to mourn uncontrollably after hearing the news.
"I've been so sick and it's very difficult to believe that I've lost my brother. My heart is broken as I keep waiting for a text or call that it's a misinformation" Isaac wrote on Facebook with crying emojis.
This is very sad. May his gentle soul continue to rest in perfect peace till we meet again in the high Heavens. Amen.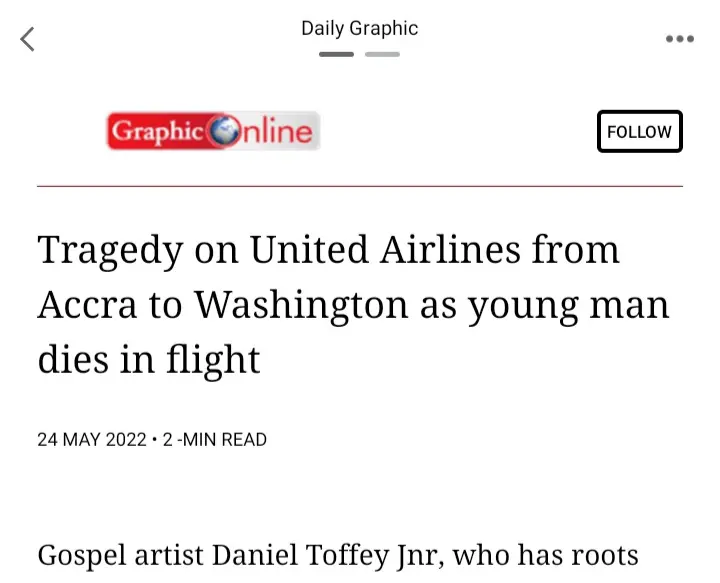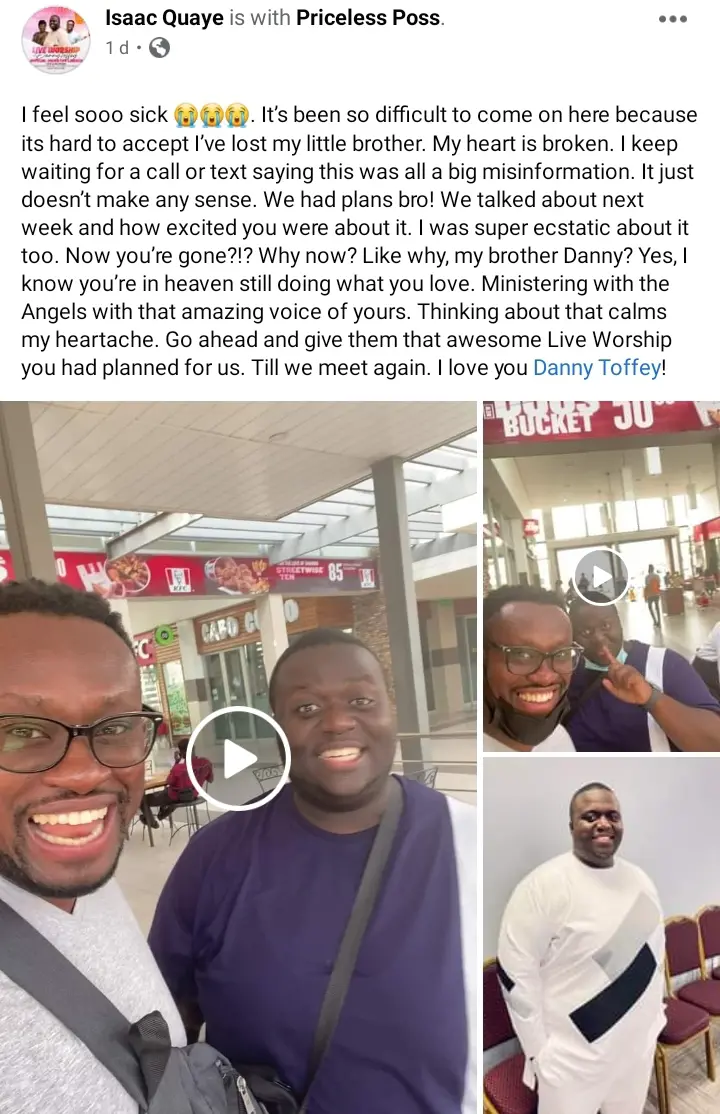 Source:Operanews
About Post Author