The recent update from the greater Accra Region is causing a massive stir online. The news was reported by Kingdom News reporters on Friday 20th May 2022.
According to the report, residents at Ga South Bibiani in the Greater Accra Region had a dispute with land guards. According to the residents, they cannot bear the constant attacks from the notorious land guards.
The angry youth therefore mobilize themselves to face those land guards. It was recorded that through the clash, the land Guards destroyed a number of properties which belongs to the people of Bibiani. The police service intervene to ensure peace, but the bad conduct from the land guards is still going on at Ga South.
Speaking on Kingdom TV and Kingdom FM, the Residents at Bibiani are therefore calling unto the Government to do the right at else, the next time the land guards will dare them again; it is going to be bloody.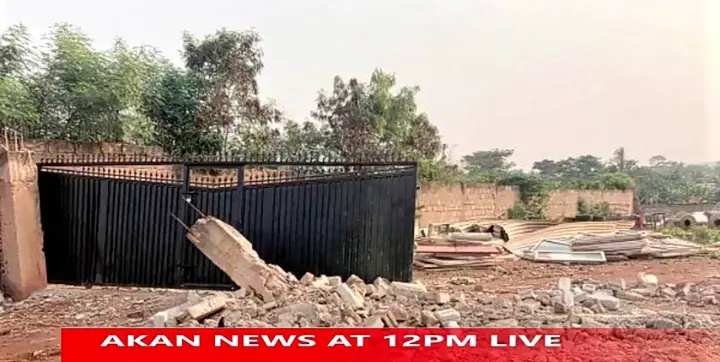 Building Destroyed By Land Guards.
We can also armed ourselves and put the laws in our hands. We will not allow the land guards to torment us on our own land. This is the last warning. The next time this clash will happen again, it is going to he bloody". – Resident Of Bibiani Stated.
https://www.facebook.com/kingdom107.7fm/videos/372696644829207/?app=fbl
Source: Kingdomfm
About Post Author