General News
Hot Stories
Politics
Check Out The Amount That Nana Addo, Bawumia,Mike Quaye And Other Ministers Took As Ex-Gratia Between 2017-2020; Details Dropped-CHECK.
The amounts that some selected politicians take as Ex-Gratia is outrageous. It will surprise you to know that the individual culminated amount one singular individual receive just for four years might be 10 times the cumulative amount a man on the street will get throughout his working lifetime.
Some calculations were made to find out how many beds, classroom blocks, hospital beds and other projects could have been completed with the ex-gratia amounts that Togbe Afede returned. It will shock you to know that Togbe Afede's money was the smallest of all the politicians.
1. President Nana Addo Dankwa Akuffo Addo received GHc 659,392
2. Vice President Dr Mahamudu Bawumia received GHc 549,492
3. Former Speaker of Parliament, Mick Oquaye received GHc 488,456
4. All the Cabinet Ministers who are also Members of Parliament received GHc 464,032
5. The other Cabinet Ministers who were not Members of Parliament received GHc 457,928
6. The members of Parliament in the seventh Parliament received GHc 390, 788
7. The council of state members who served during the first term of Nana Addo received GHc 366,340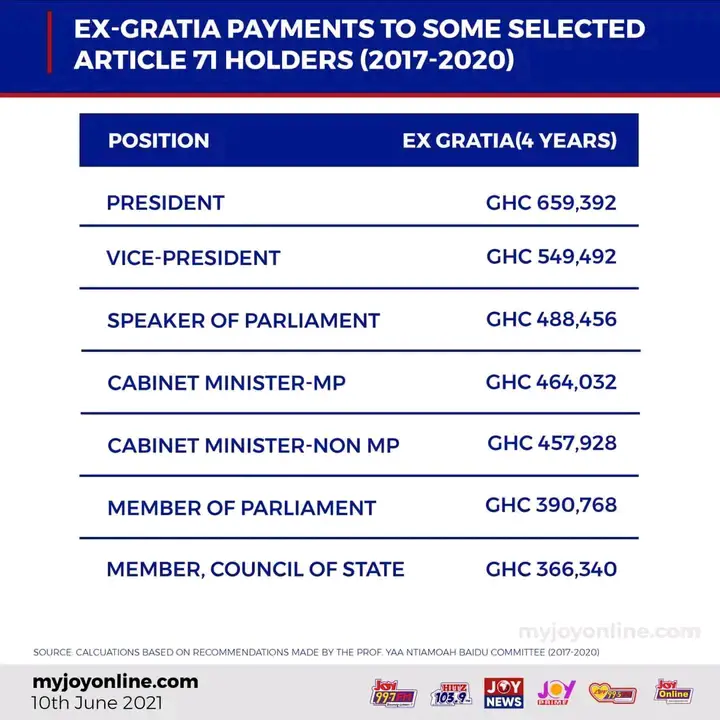 Source: Gentle Blogger
About Post Author