Ghanaian journalist and managing director of the Insight Newspaper has boldly reacted to the supposed harsh reply from IGP Dampare to the UK or British High Commissioner over issues concerning Oliver Baker Vormawor.
The UK High Commissioner to Ghana, Harriet Thompson tweeted about the second time Oliver Baker Vormawor was arrested and questioned the Police Department in the country. The country then asked her 15 questions and finally told Madam Harriet to "mind her own business". A lot of people in the country especially the NDC have described the IGP's letter to Madam Harriet as " harsh".
Meanwhile, Kwesi Pratt during his submission on Good Morning Ghana today, revealed that he perfectly agrees with the reply of the IGP to the UK High Commissioner. He revealed that no High Commissioner can come to our country and dictate to the Police how they should work.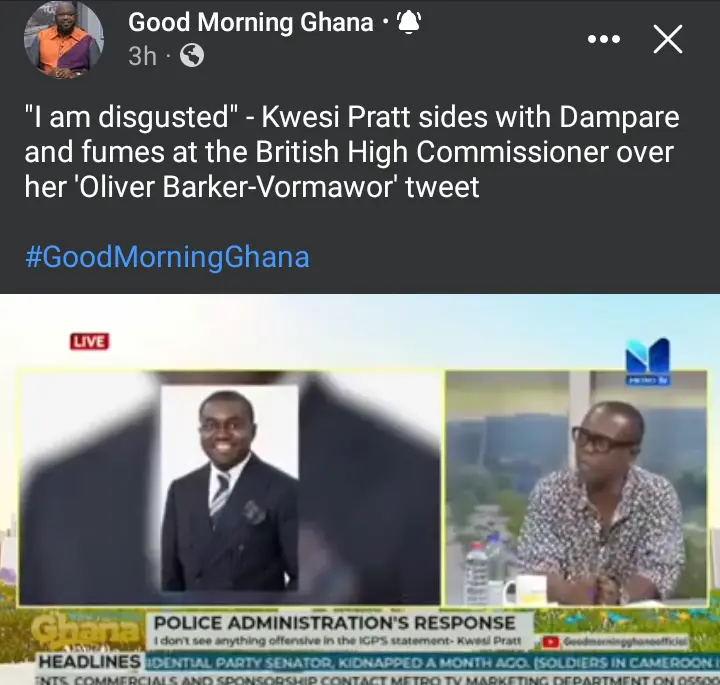 " What the British High Commissioner did was very wrong and if we should put it in historical perspective, the IGP's reply is even small. There is a long history of interference from these Western diplomats in our country and we cannot allow that to happen. It is not for any ambassador or High Commissioner to dictate to our Police how to work. I am disgusted to see people supporting her. Look at the things they do in their country, the racism against black people and all, does someone speak about it?" Kwesi Pratt boldly revealed this on Metro TV today.
Click here for the video.
Source: Obengnews
About Post Author