General News
Hot Stories
Politics
I Am Very Sorry And I Retract All What I Said About National Mosque-CEO Of National Cathedral Apologizes-CHECK FULL STATEMENT.
The Chief Executive Officer of the National Cathedral, Dr. Paul Opoku Mensah has taken a U-turn on what he said about the National Mosque on the Boiling Point on GTV last Sunday. It will be recalled that Dr. Opoku Mensah, in an attempt to justify government's donation to the National Cathedral Fund, he explained that Government had also facilitated the construction of the National Mosque.
The Coalition of Muslims in Ghana (COMOG) was obviously not happy with that statement so they put into writing, a letter to the CEO to register their disagreement with his allegation.
Dr. Paul had no choice but to apologize and retract his statement.
"As Hajj Abdel-Rahman graciously explained, what I had been informed was "facilitation" but not "state resources"- did not actually happen. I retract and apologize for the use of state facilitation in my response and deeply regret the pain it might have caused the COMOG and the Muslim Umma in Ghana", he wrote in letter.
He further added, "we should not equalise the discussions on National Cathedral and National Mosque as they are separate projects."
Read full letter.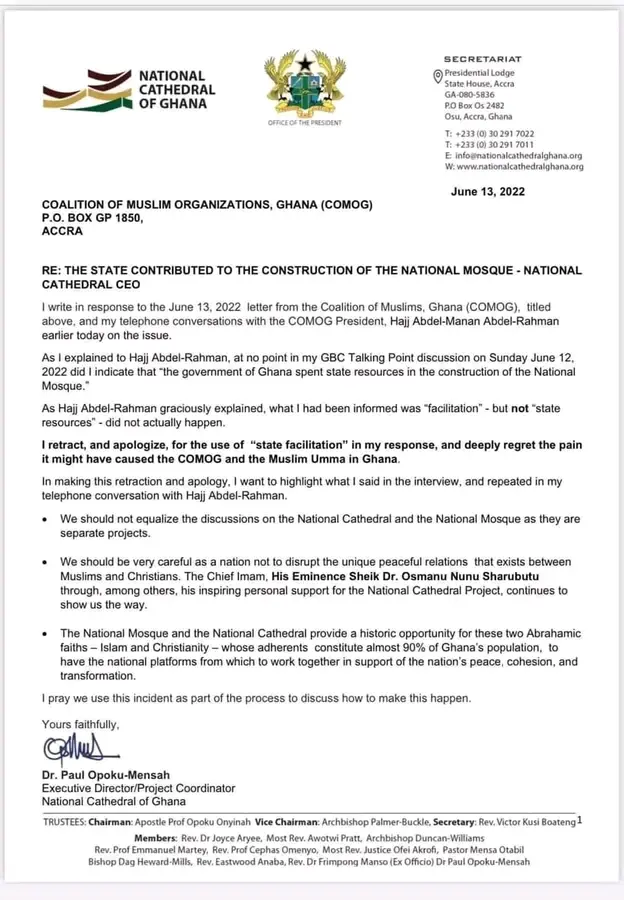 Source: Gentle Blogger
About Post Author