Sista Afia, a Ghanaian songstress, has issued a powerful statement ahead of Ghana's match against Portugal on Thursday, November 24, 2022, in the present FIFA World Cup in Qatar.
According to a tweet by the singer, if Ghana's Black Stars defeat Portugal 3 nil, she would go nude on live video and dive into a pool.
The Black Stars will compete before their group opener against Portugal.
Ghanaian singer and composer Francisca Gawugah, better known by her stage as Sista Afia, seems to be among the doubters who feel the Black Stars of Ghana would struggle to defeat Seleço das Quinas.
Sista Afia
According to Sista Afia, in a Facebook post, she will go naked out of excitement if Ghana were to beat Portugal by 3 unanswered goals.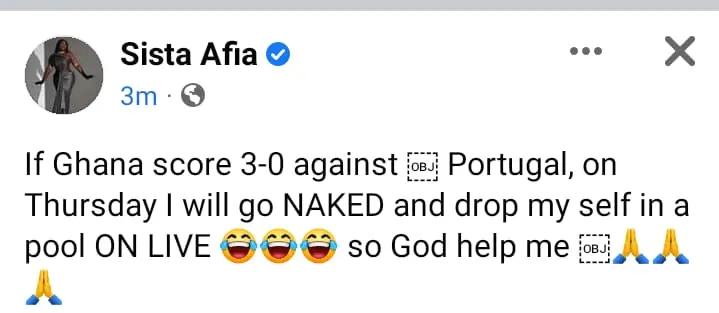 Source: Ghanasummary
About Post Author