General News
Hot Stories
I Won't Spend $80,000 On My Daughter's Education For Her To Date A UPSA Guy-Kennedy Agyapong Discloses-CHECK.
Kennedy Agyapong who is the current member of parliament for Assin North has surfaced online since he said he won't allow her daughter to date a UPSA guy. He had his education at Adisadel College and Fordham University.
According to him, he has spent over $80,000 on his daughter's education and he won't watch see her date a UPSA guy.
University of Professionals Studies Accra (UPSA) is a tertiary institution with its main campus at East Legon. His daughter which he was talking about has also graduated from Union Catholic High School in New Jersey in the United States.
This issue has caused stir and is still trending since students from other tertiary institutions are laughing at the UPSA institution. Others have reacted to the issue on twitter. This is how some people reacted.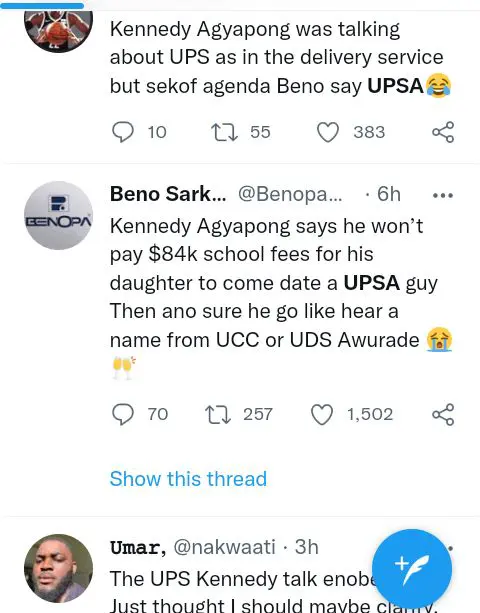 This issue has been really exciting and I encourage my dear readers to follow for more of this trend.
Source: Operanews
About Post Author