A leading member of the New Patriotic Party has finally been told to contest Dr. Mahamudu Bawumia in the upcoming NPP primaries if indeed he thinks he is a man and has gravitas in the New Patriotic Party. This daring statement was made to him after Dr. Kobina Arthur Kennedy made this statement.
"Bawumia has paid his dues to the NPP but he should respect those who started before him Dr Bawumia must make way for those who were in the party before he joined to contest for the flagbearer position of the NPP ahead of the 2024 election"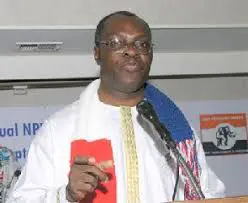 A staffer at the Office of the Vice President, Krobea Kwabena Asante enquired from Dr. Arthur Kennedy if he had paved way for those who were before him in the 2007 NPP annual delegate conference. He left him with this message.
"If Arthur Kennedy, the political Methuselah thinks he has the gravitas, he should pick forms God willing 2023 to contest Dr. Bawumia. He shall move from 1 vote of 2007 to negative 10".
Source: Gentle Blogger
About Post Author