Popular Peace FM Journalist Nana Yaw Kesse has boldly declared that he is a direct Beneficiary Of Sir John's kindness and mentorship. With that he is never ashamed to say. The journalist made this known on his official Facebook page. He was however unhappy about the people who also benefited from Sir John but are busily denigrating him even in his grave.
"I am not saying don't discuss his "evil" deeds if any,far from that but to discuss someone's will sentence by sentence? think deep about it,don't be emotional about it because it is Sir John,it could be anyone else tomorrow." Portions of his words read.
"Of all this Sir John discussions , there are two issues of concern to me; the leaked WILL and the hands he fed while he lived that are denigrating him even in his grave" Nana Yaw Kesse added
Then came the bold declaration and solidarity to Sir John.
RIP Sir John,I am not ashamed to say that you are part of the reasons I am where I am today,I will forever be grateful to you for everything."
NPP's Jennifer Oforiwaah Queen reacted to the statement and cried over how Sir John is being treated unfairly even in his grave.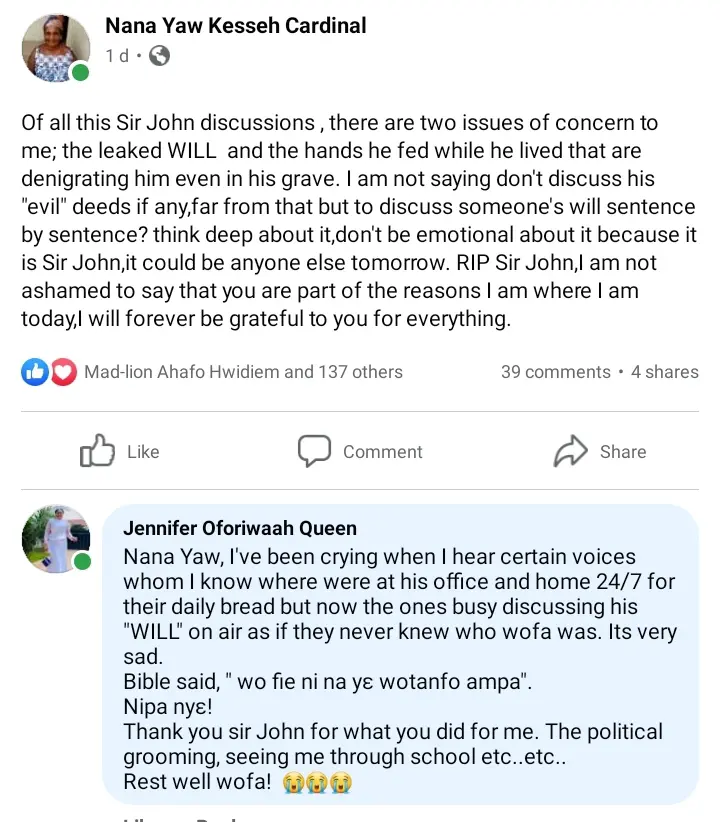 Source:Operanews
About Post Author