Lawyer Maurice Ampaw, has challenged Kennedy Ohene Agyapong, Member of Parliament for Assin Central, to reveal whatever secrets he claims to have against the New Patriotic Party (NPP).
Whatever secrets you have, come and say it. You're loud Kennedy Agyapong, use that to scare the foot soldiers. And those that are following Kennedy Agyapong, thinking that he is their saviour, he can't come and save anybody. He's a populist."Maurice Ampaw
The MP, is on record to have threatened to spill secrets that can potentially collapse the NPP. The most recent threat was on Kumasi-based Sompa FM, where he alleged that some government officials were using tax authorities to threaten his business concerns.
Ampaw also asked Agyapong to look and learn from fellow aspirants: "Look at the other Presidential Candidates, look at Alan Kyerematen, look at Bawumia, on a quiet note. They're working, and Kennedy, he's just making noise. For you, every day you're accusing Nana Addo, what at all has Nana Addo done to you?"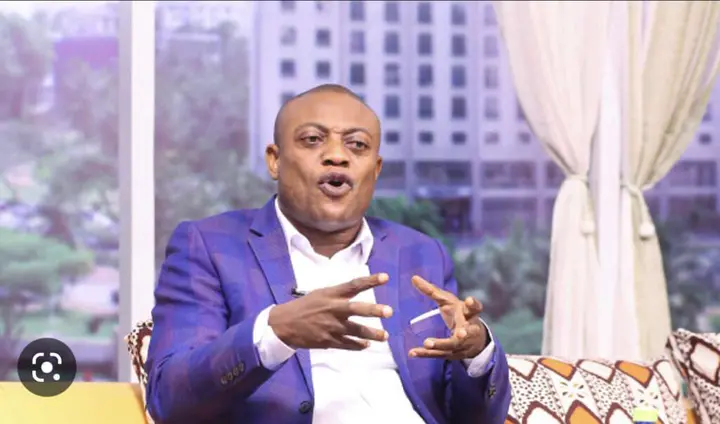 Agyapong, a flagbearer hopeful for the NPP presidential primary, alleged that the tax witch hunt was connected to his Presidential ambition.
The Ghana Revenue Authority (GRA), has issued a statement refuting his allegations of targeting, explaining that all its interactions with his businesses are part of routine discharge of their legal mandate.
'Angry' Kennedy Agyapong Threatens To Spill NPP Secrets
Kennedy Agyapong, a presidential aspirant hopeful of the New Patriotic Party (NPP), threatened to spill secrets about the party that will spell the end of the party.
Kennedy Agyapong claimed that there was a plot by the government to collapse his companies. He sounded a word of caution to the party that if the persons deployed to cripple his companies are not withdrawn, he will embark on activities that will also kill the party.
"You are going there because Kwame Agyapong is a loudmouth. You want to collapse my companies because I want to contest. I'm being nice and charitable to the NPP but they shouldn't dare me. Anybody who tries to kill my companies because I'm contesting for elections, I will kill the party.

"The things I know and will say will kill the party. I've gone through a lot from January till date but l've been very nice. If you want to collapse my company because of one person then I will also kill the party. I'm not afraid of anyone."Kennedy Agyapong
Kennedy Agyapong is hoping to lead the NPP into the 2024 election, with a campaign to instill discipline and fight corruption.
The New Patriotic Party (NPP) flagbearer hopeful, weighed in on the recently published Auditor-general's report that pointed to fraud and impropriety in spending of COVID-19 funds.
The performance of NPP during the COVID, I am not holding brief, we have made some mistakes that we all have to accept and I will be the first person to accept. But if you compare the two governments; Akufo-Addo and Mahama, Mahama is not an alternative to Ghana because the man has been fortunate to succeed Atta Mills for two years."Kennedy Agyapong
When pushed by host Paul Adom-Otchere about Mahama's claim that the NPP was corrupt, Agyapong responded: "NPP is corrupt, NDC is corrupt, that is why you have Kennedy Agyapong coming in." When he was reminded that he was an NPP man, he replied: "I am a disciplined NPP (member)."
Source:Operanews.com
About Post Author