General News
Hot Stories
JUST IN:Deputy Regional Commander Removed,Two Other Senior Officers Interdicted Over Islamic Disturbance; Details Dropped-CHECK.
The Ghana Police Service has released a statement on the removal of the Deputy Regional Commander and two other Senior Officers that have been interdicted following the disturbances at the Islamic Senior High School in Kumasi.
It would be recalled that the police fired tear gas this morning at demonstrating students which led to some of them fainting and others that got injured in the process.
According to the police statement, following the reports in the morning the IGP Dr. George Akuffo Dampare let the team from the police headquarters to Kumasi immediately to ascertain the cause of the situation and to check on both student and police officers that got injured in the process. On the positive side, all the students and police who were rushed to the hospital have been treated and discharged.
According to the statement, their finding revealed that following the blockage of roots Bada student demonstrators the police responded to disperse the student and open the road for normal traffic flow. However, the students pelted the police by throwing Stones and pepper spray to which the police responded by firing warning shots in an attempt to disperse them there was hit by the bullet.
Nonetheless, the investigations proved that the police handling of the incident was very sure was very poor a short of professional standards of operation to control crowds and in that regards regard the Deputy Regional Commander DCOP Mr. Kwasi Akomeah Apraku, Acting Regional Commander has been removed from his position and has been interdicted. Two other senior officers ACP Mr. George Ankomah the Regional Operations Officer and ACP Mr. Alex Cudjoe Acquah the swami divisional police command have also been interpreted to make way for a thorough investigation into the incident.
Attached is a copy of the press release.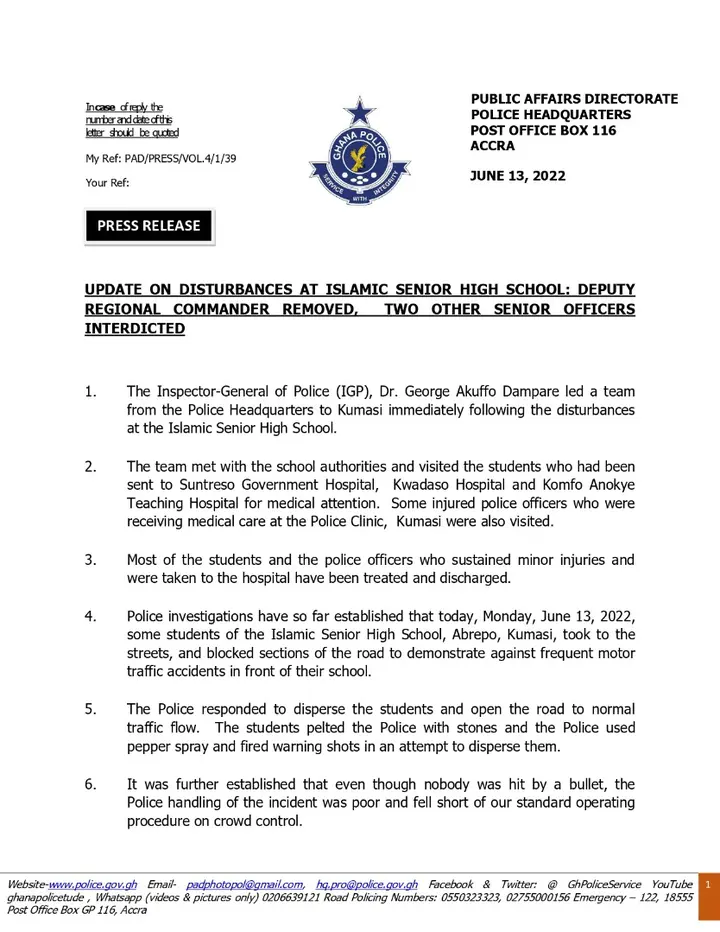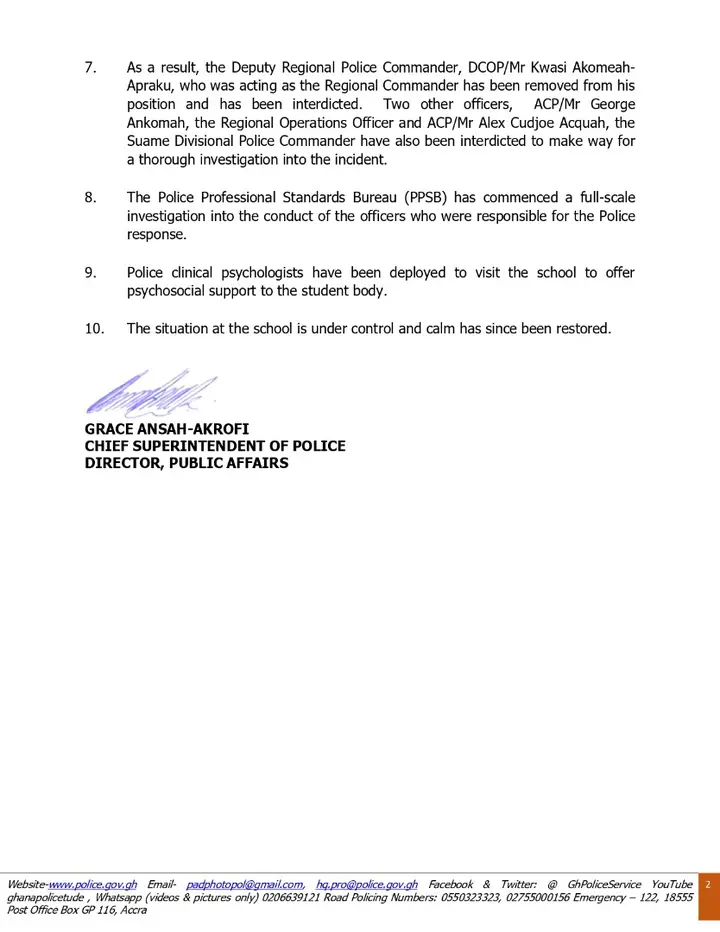 Source: Operanews
About Post Author