Former National Women Organiser for the ruling New Patriotic Party NPP, Madam Otiko Afisa Djaba is very angry about some purported lies spewed against her personality by one desperate NDC activist Elikem Kotoko.
According to Otiko Afisa Djaba, she is demanding a retraction and apology for the lies within 12 hours else she will go to court to redeem her image.
"My attention has been drawn to a post on the Facebook timeline of an NDC activist Elikem Kotoko. In the said post, he has attributed a statement or quote as having been made by me. Let me state unequivocally that I have neither made this statement by voice nor text. I have never uttered these words anywhere.
As a matter of fact, this is not my thinking as a former political activist. Even on retirement, I don't subscribe to such a viewpoint. The post is reprehensible as much as it is malicious. It is a fabrication from his own mind. It is a figment of his own imagination.
I am using this medium to ask the young man to first of all, pull down the said character assassinating post. He should follow the deletion with an unqualified apology to me on his Facebook timeline. I demand these to be done within the next 12 hours of this notification to him lest I take legal actions against him to redeem my image.
I am entreating the general public to ignore this viperous, vixenish publication from the young man as same has never been made by me and neither does it represent my viewpoint. Thank you" Otiko wrote on her official Facebook page.
Below is the fabrication and defamatory post made by the desperate NDC communicator and a screenshot of Madam Otiko Afisa Djaba's statement.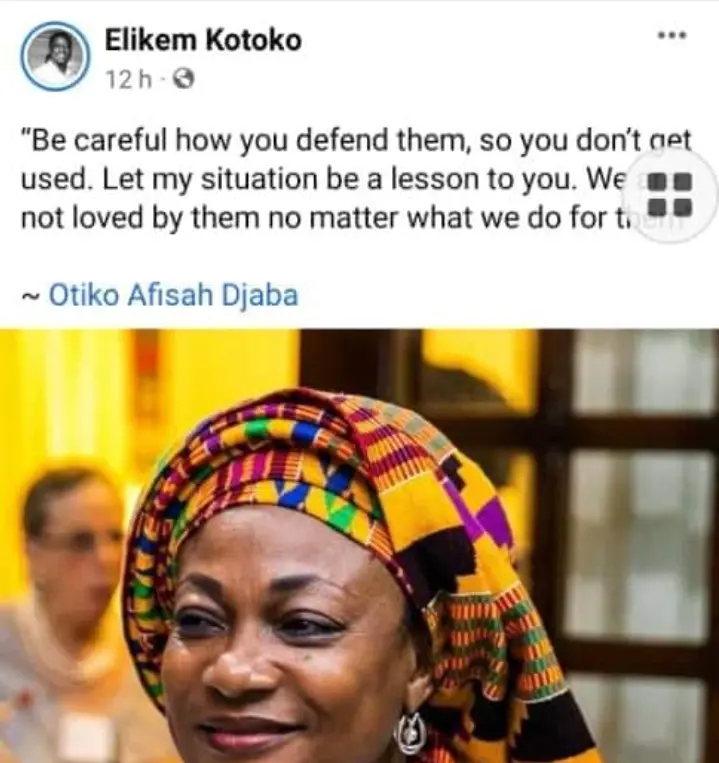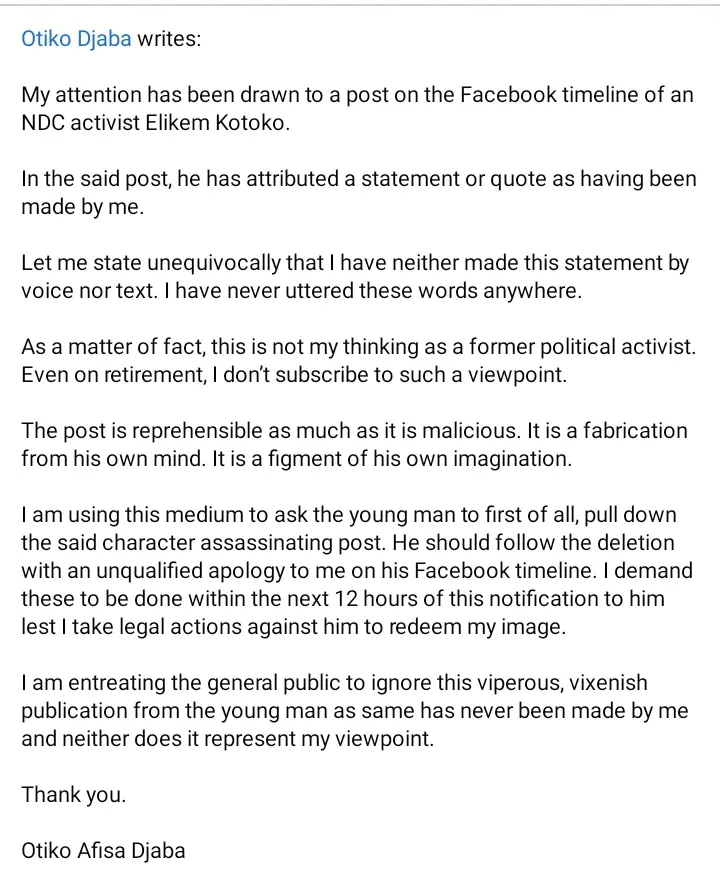 Source:Pen Sounds
About Post Author