General News
Hot Stories
Leave My House Else You Will Pay With Your Life:Father Of Achimota Rastafarians Student Warn His Son-CHECK DETAILS.
Today, the father of the Rastafarian boy who was initially refused admission at Achimota School, Tyronne Mahgury, has revealed that his son has been disrespecting him and abusing him. He shared some secrets about the bad behavior of his son which Ghanaians never knew.
"This is the third time something like this is happening. Because he walked over me and I wanted to slap him for doing that. This boy sees me with a load coming from town and he does not come to help me. When I tell him to do something, he does it when he wants to do it. And strangely enough the mother supports this and I don't know why."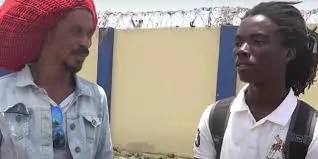 He later threatened his son and gave him this word of caution.
"I don't know but the next time this happens it's either he leaves my house else he will pay with his life. I am going to kill this boy."
Source: Gentle Blogger
About Post Author