Today, the Finance Committee of Parliament presented a motion to Parliament which called on members to approve or give the government permission to borrow 75 Million Euros from the European Investment Bank in order for them to handle COVID-19 in the country. The motion was moved and seconded but some members of the minority stated that they will not support this motion.
The minority had stated boldly that they will not support this move unless the government or the Finance Ministry account for the huge monies that were gotten, borrowed, and expended on COVID last year.
Speaker Bagbin, in reaction, explained that he was not willing to support the government to go for loans from local banks since it was very costly. However, he stated boldly that he will join forces with the government to go for external loans on the condition that they account for the COVID-19 expenditure. Alban Bagbin concluded with this bold statement.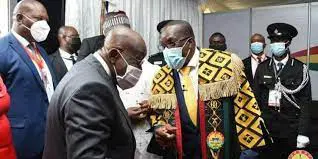 "The people of Ghana have been blaming the executive arm of government for some of these things. I think the parliament must be blamed not the executive. Because we have all it takes to make sure that the right thing is done. It is Parliament that is weak and failing to do its duties", Alban Bagbin added.
Source: Gentle blogger
About Post Author