The game of politics has once again divided the two major political parties in the country, the National Democratic Congress and the New Patriotic Party, over the release by the Inspector General of Police in reaction to the tweet from the British High Commissioner. As expected, the NPP body has chosen to support the IGP on his decision. The NDC on the other hand has blasted the IGP for trying to do the biddings of the NPP.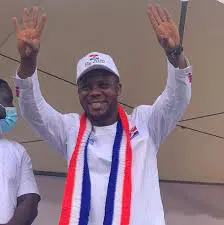 Today, a top NPP Member, who was once the Member of Parliament for the Ngleshi Amanfro constituency, Sylvester Tetteh, joined forces with the National Communication Officer of the National Democratic Congress, Sammy Gyamfi to blast the IGP, George Akuffo Dampare. From the assertion put out by Sylvester Tetteh, it appeared that he is not pleased with the appointment of Dampare. He dropped some startling revelations about how some NPP people were displeased with the things the IGP was doing.
"How can you arrest a politician and put his car number in an issued release. Look at what he has done ever since he became an IGP. We have been arrested on many occasions. And we were sent to court for traffic regulation offenses. But this man has decided to arrest any politician he gets, but the car number, name constituency, and everything in the public domain.
We have to call a spade a spade. He does not respect the structures which he is working under. The letter from the foreign affairs has given him up"
https://web.facebook.com/100051168855783/videos/808243800563360
Source:Gentle Blogger
About Post Author