Ghanaians have been praising Togbe Afede XIV, the Agbogbomefia of the Asogli State, for returning a fund of 365,000 cedis ex-gratia the government paid into his account. According to Togbe Afede, it is not appropriate to receive the said amount when he already takes a monthly salary for serving on the council.
What Togbe Afede did really win the hearts of many Ghanaians, which has made an outspoken member of the governing New Patriotic Party (NPP), Patrick Kwarteng Sarpong, who is best known as P.K. Sarpong, react to what Togbe Afede did on his Facebook page.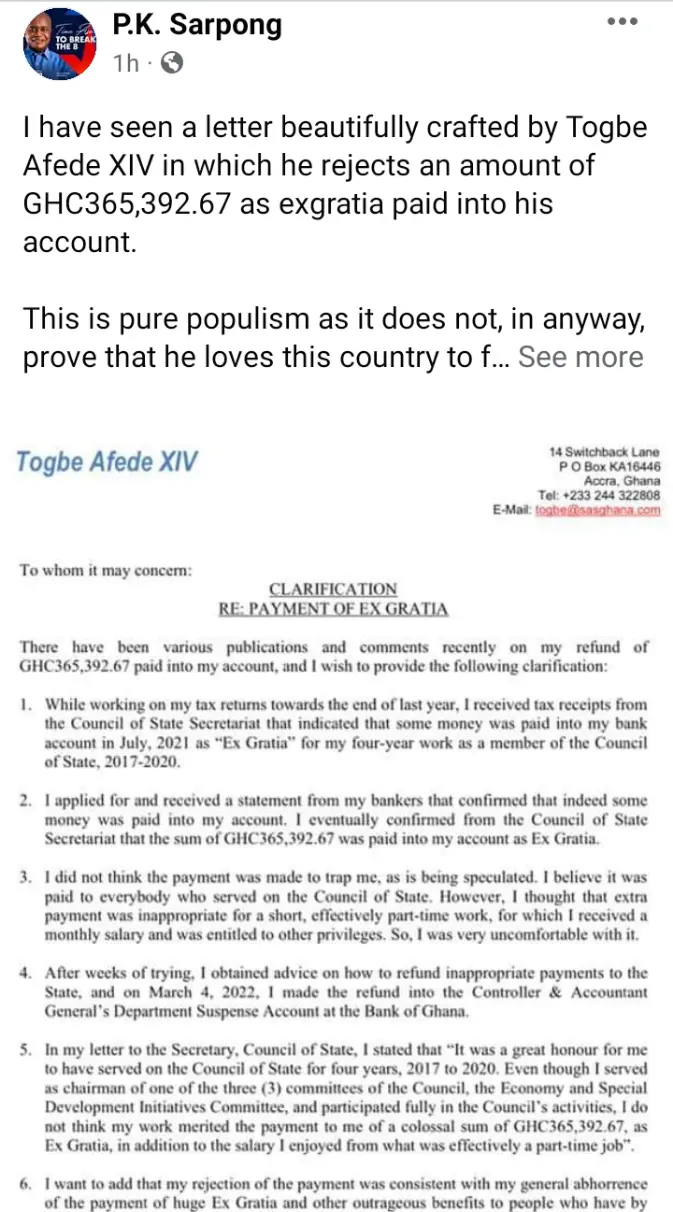 P.K. Sarpong writes, "I have seen a letter beautifully crafted by Togbe Afede XIV in which he rejects an amount of GHC365,392.67 as exgratia paid into his account.
This is pure populism as it does not, in anyway, prove that he loves this country to faults. He believes it is unconscionable on his part to accept this money.First of all, per his own letter, he poignantly states that the job assigned to him and all the other members was 'part-time' yet they were being paid monthly salaries.
Why didn't he reject the salaries as well, since the job entailed only a few hours of their time? Why hasn't he refunded the salaries he took for the entire duration of his tenure? This gimmick of a move is in no way suggestive of how patriotic Togbe Afede XIV is. In his letter of appointment, it is clearly indicated the benefits that would be accrued to him and how much he would take as an 'exgratia'.
Didn't he write a letter confirming or accepting the job as a member of the Council of State? If his intentions were genuine, he would have indicated in his acceptance letter that he was vehemently opposed to the benefits that came with the job.
Let it be known out there that his Sunon-Asogli Power Limited had inputs from the state under former President John Agyekum Kufuor, therefore, the impression being created that he hasn't benefited from the state is false. He has hugely benefited from Ghana.
As far as he didn't reject the exgratia in his letter of appointment and went ahead to take the monthly salaries as a 'part-time' worker for the state, he cannot tell us today that he loves us so much so that he is returning the exgratia paid to him. He should have rejected it in his acceptance letter. We are too discerning to swallow this melodrama hook, line and sinker. 
P.K.Sarpong, Whispers from the Corridors of the Thinking Place."
P.K. Sarpong image.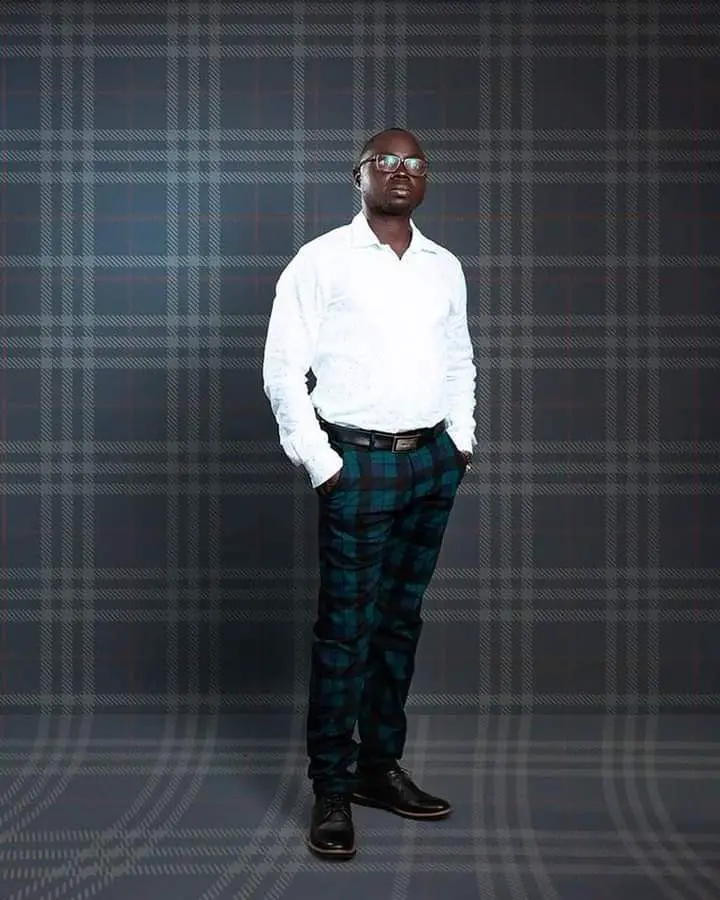 Some Ghanaians who saw P.K. Sarpong's reactions on Togbe Afede XIV didn't like his reactions, and some liked them. Some Ghanaians don't understand why P.K. Sarpong should say Togbe Afede should have rejected the salaries as well since the job entailed only a few hours. See reactions from users online below.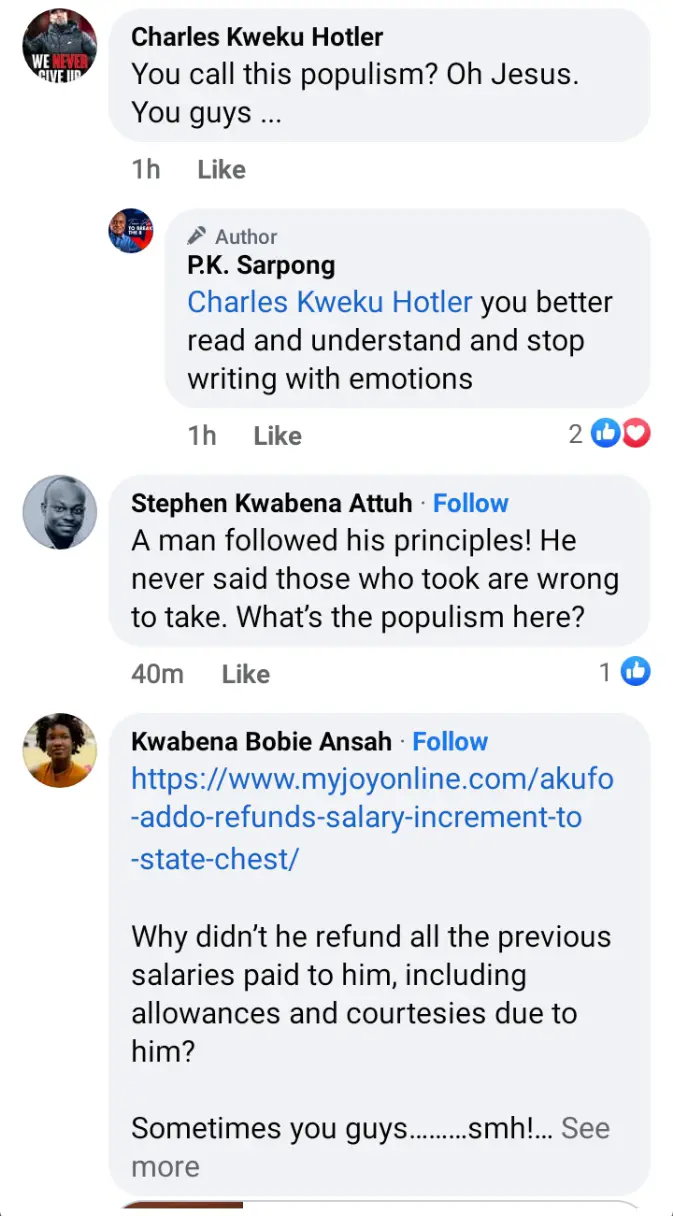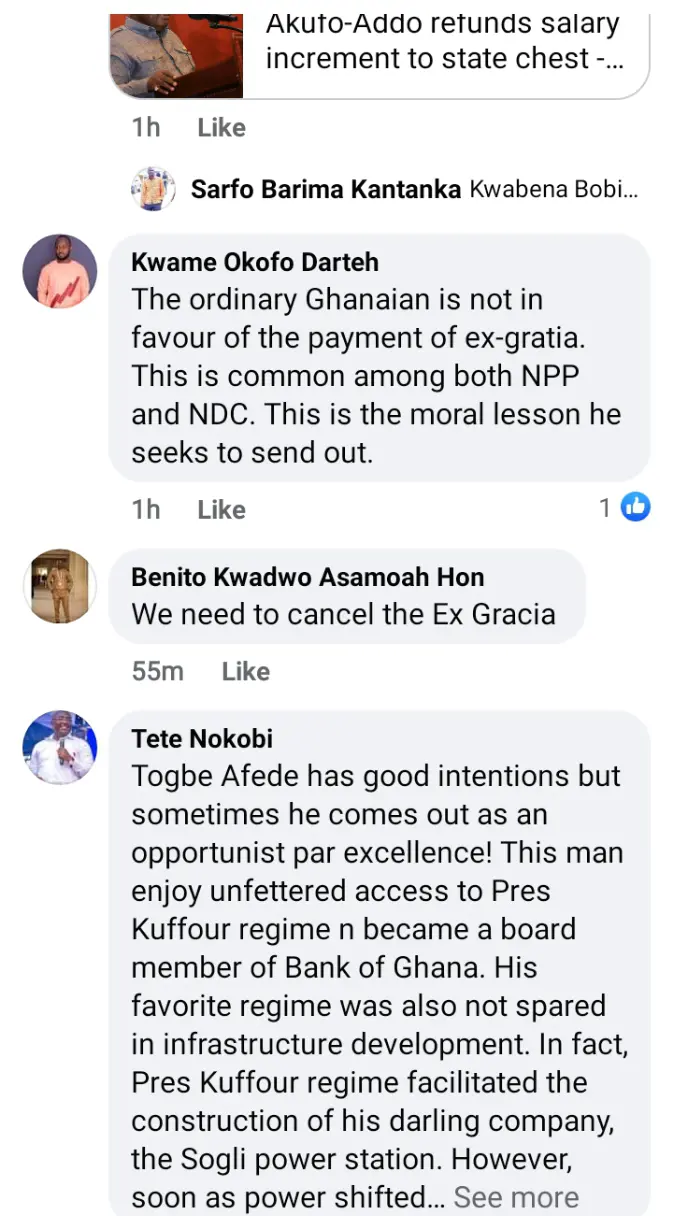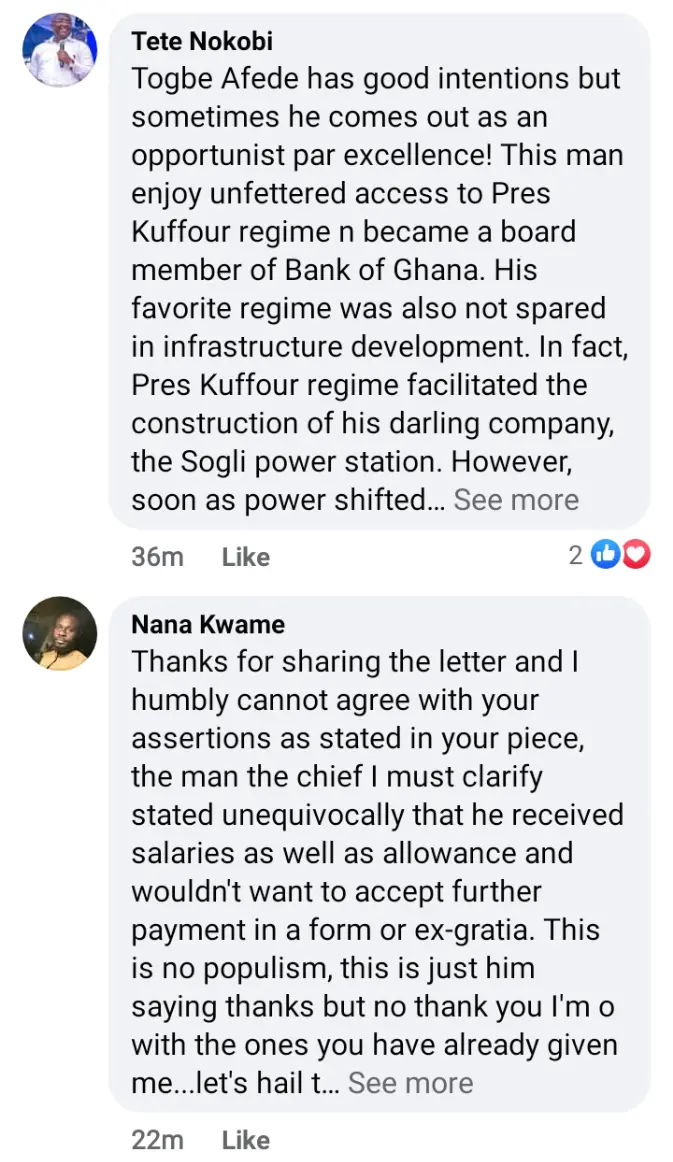 Source:Hotnews
About Post Author