Deborah Seyram Adablah, Ghana's most well-known side chic, was allegedly detained a few days after her controversial suit was heard in court.
We previously reported that the High Court in Accra had ordered Deborah Seyram Adablah to turn up the disputed car to the court's registrar in her lawsuit against a bank's senior financial manager for allegedly breaching a pledge to watch out for her.
Tuesday's (16 May 2023) ruling by the court presided over by Justice Olivia Obeng Owusu mandated that the contested vehicle be delivered to the High Court Registrar for storage while the matter is being resolved.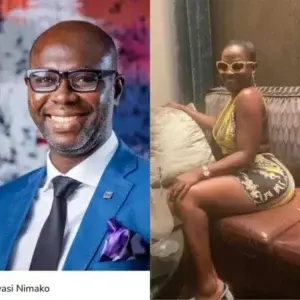 Deborah Seyram Adablah claims in a lawsuit filed on Monday, January 23, 2023, at the Accra High Court that her "sugar daddy," Ernest Kwasi Nimako, promised to give her a car, pay for her housing for three years, give her a monthly stipend of GH3,000, marry her after divorcing his wife, and also give her a lump sum to start a business.
The automobile has reportedly been in Adablah's possession ever since, and he brings it to court for a hearing.
As part of the judgment made today about the car, Mr. Nimako has also been required to give the Registrar any paperwork relating to the aforementioned vehicle.
According to a video becoming viral on Instagram, some police officers raided Deborah's home in this latest development and arrested her.
She at first resisted asking why she had been arrested. She reluctantly followed the cops to the station while being questioned about her mistakes.
Evidently, the court's order for her to surrender the contested automobile to the Registrar until the matter is resolved has not been followed.
Source: Ghanaown.com
About Post Author