A popular member of Parliament on the ticket of the opposition National Democratic Congress (NDC), Hon. Mintah Akandoh has finally revealed the real reason why the finance minister, Ken Ofori-Atta hasn't been sacked by President Akufo-Addo.
While speaking to the media after Ken Ofori-Atta failed to show up in Parliament to account for the Covid-19 funds, Hon. Mintah Akandoh revealed that the minister has consistently shown that he's not up to the task. He revealed that the real reason why the minister has not been sacked is that he's protecting the parochial interest of President Akufo-Addo.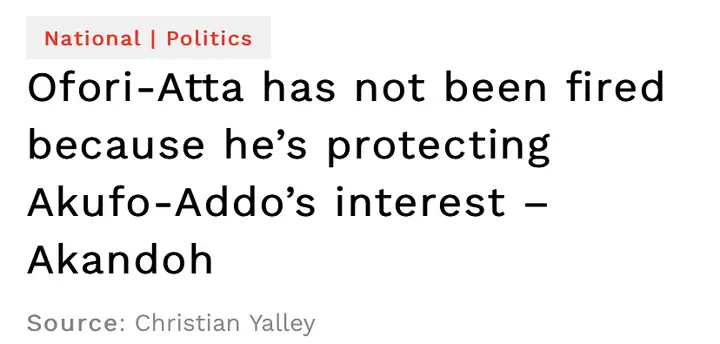 "In any jurisdiction, this man would have been fired long ago by the President. He is not being fired by the President because he is keeping the parochial interest of the President. Tell me one single reason why this Minister should be in office by now. Are you satisfied? The hardship we are going through today, are you satisfied? The inflation today and the economic condition we are in today in Ghana can only be likened to the 80s." Mintah Akandoh boldly revealed this.
Source: Obengnews
About Post Author