The role of a teacher is undeniably irreplaceable. Professors and PhD holders are expected to contribute to national debate which helps in the development of the country. It is in that sense that one of the respected Political Science lecturers in the University of Ghana, Professor Ransford Gyampo, has over the years scolded and sometimes praised top notch government officials including the President. Today, the said Professor, took a swipe at the opposition National Democratic Congress. He shared in the assertion of the late President, John Jerry Rawlings, that "Even in opposition, they remain babies with sharp teeth, lending credence to the argument that Ghanaian must approach the alternative with trepidation. What a political suicide to commit to the scary intolerance even in opposition"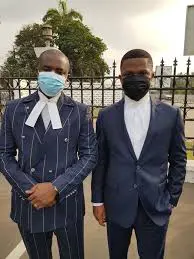 In reaction to this, a leading lawyer in the country, whose potentials can be justified by his position as an aide to Former President John Dramani Mahama and a member of the NDC legal team, Edudzi Tamakloe, schooled the outspoken Professor.
He stated emphatically that over the years, Professor Gyampo has been exhibiting gross disrespect towards politicians and simultaneously seeking that the same politicians remain tolerant. Lawyer Gyampo took some time to school and educate the professor. Is that not sarcastic?
"If you have an encounter with an NDC member, where lies the fairness to generalize? I am not a professor like you. I am managing my law practice. But I know you professors call something fallacy of hasty generalization or?"
Read the full comments.
About Post Author