The host of the Seat show on Net 2, Kweku Anan, has dropped a startling revelation of how Nana Addo's administration is about to go bad in these last few years of his tenure. He explained that a serious storm is about to hit the government and it might not be easy for the government. He disclosed during the show that the storm is looming from the Electricity Company of Ghan
There is a great storm and it is looming from ECG. The Ministry of Energy is also involved. This is because the storm I am talking about is what we call Dumsor. The Dumsor will be blamed on this government and it will not be easy for the government", he added.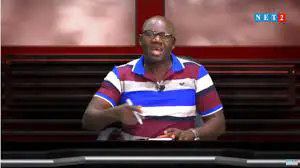 Kweku Annan further explained this thing that is about to happen should be blamed on some people who are in the Electricity Company of Ghana. Kweku stated that he was willing to expose these people because it is solely their fault.
a.
Source:Gentle Blogger
About Post Author