Before any event or something happens, God or any deity gives a hint through some signs. In the case of the upcoming NPP primaries that will feature a tough contest between Alan Kyeremanten and Dr. Mahamudu Bawumia, the signs have started showing clearly and they are all in the favor of Alan Kojo Kyeremanten.
We are all aware of how the sitting Vice President in Nigeria, Yemi Osinbajo, had lost to Bola Ahmed Tinubu in the All Progressive Congress "primaries". Also, the All Progressive Congress and the New Patriotic Party are both ruling and governing parties in Nigeria and Ghana respectively.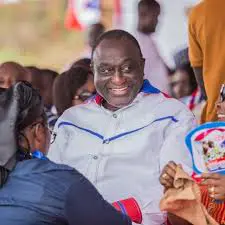 There has been some established relationship between Alan and Bola Ahmed Tinubu.
1. Alan Kyeremanten sacrificed and allowed President Nana Addo Dankwa Akuffo and President Kuffuor to lead the NPP. In like manner, Tinubu sacrificed and allowed Yemi Osinbajo to be the running mate of Buhari.
2. Tinubu helped in the founding of the All Progressive Congress in 2013 and likewise for Alan, who was also instrumental in the formation of the New Patriotic Party in 1992.
3. Tinubu and Alan Kyeremanten played significant roles in uniting several parties to form APC and NPP respectively.
4. Alan Kyeremanten has singlehandedly mentored high personalities in the New Patriotic Party including Peter Mac Many, Kwadwo Baah Wiredu and others. Whiles Tinubu trained Osinbajo, Ahmed Lawan and many others.
Source:Gentle Blogger
About Post Author