Lord Commey, the Ghanaian lawyer and director of operations for the Jubilee house has been mentioned in an ongoing investigation which has his name included. This happened after a group of young men who were armed and were in army uniforms stormed a vicinity in Sukura and fired guns through some people. The reason for their presence at the said location is to protect a piece of land that was was alleged to belong to the lawyer kum politician. The media has covered the news with several assumptions made concerning the men in uniform.
From reports, the young men of Sukura after being tipped off that the armed men were not in the millitary immediately attacked them and seized their weapons and vehicle. The video posted online showed clearly the interactions between them and the manner in which these men intimidated residents of Sukura. This is not legal and was a terrifying moment for many people. They felt terrorized and scared because of the fear and panic that these young men were putting them through.
After getting access to the weapons and vehicle, they were presented to the Dansoman police where these comments were made. The Dansoman police station in a non-partial statement has revealed that these young men are not thugs. The word thugs could be used to paint a wrong picture because of the propaganda that will arise from this issue.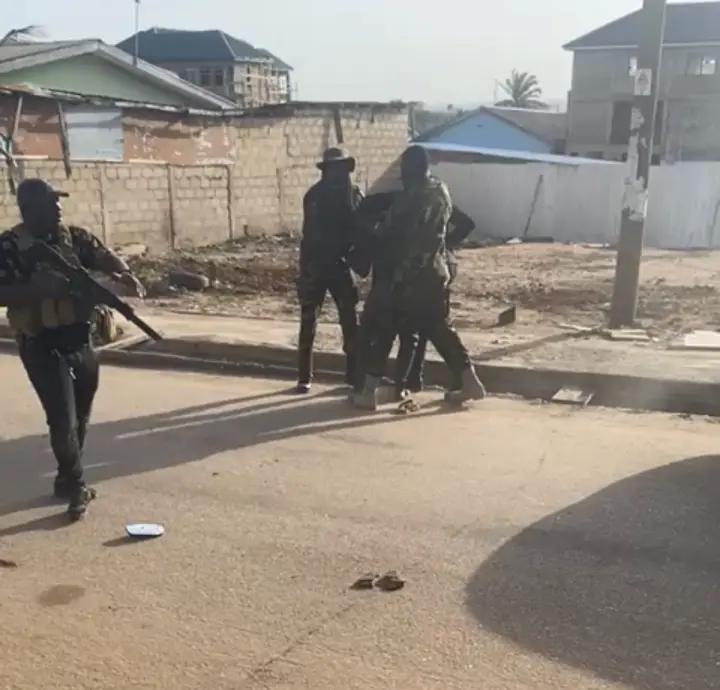 But it is not safe to make a hasty generalization according to the police. The Dansoman police have revealed that the young men are being questioned on how they got there and what permits they had. They have not made a general conclusion on whether these young men came to hurt the individuals there or not but are committed to ensuring that Ghanaians are fed with the truth only after their interrogations. From sources also, there were about two young men who claim are soldiers whiles the others had nothing to prove aside comments which made the people assume were land guards.
Source: Operanews
About Post Author