Ghanaians Journalists like Kelvin Taylor, have predicted that the current government is plotting some things behind closed doors to stop the 2024 election from coming on. According to such journalists with this school of thoughts, the government is doing this because they have gotten the signal that they will loose massively in the 2024 election.
Today, Accra FM journalist, Kwabena Bobie Ansah, has leaked a small excerpt of of a letter from the Ghana National Security Intelligence office. The excerpt reads:
"We expect a well-organized nationwide civil unrest by the youth which will eventually develop to the level of regime change and possibly military takeover to calm tempers down, during and after the 2024 election."
This was the reaction of Kwabena Bobie Ansah to that letter.
They want to activate one of their militant groups to misbehave and use it as an excuse and run away from the country with all that they have stolen. It will never work.
NDC will win and take power and make Akufo-Addo and his family account for every pesewa spent. I will eventually publish more details in the documents we have intercepted.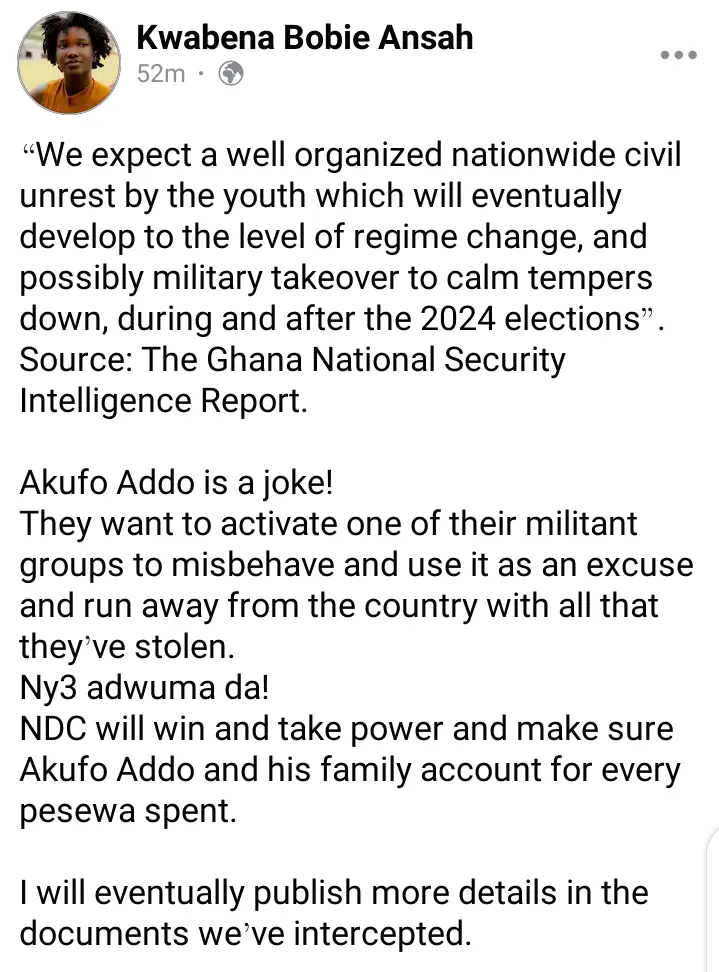 Source: Gentle Blogger
About Post Author