A member of the National Democratic Congress legal team, Edudzi Tamakloe, who doubles as an aide to the Former President, John Dramani Mahama, has dropped a stunning revelation of how his close friend who is also a popular NDC activist, Yayra Koku, is planning on suing him for a funny reason.
The two, Edudzi Tamakloe and Yayra Koku have on a frequent note, been tagging themselves on social media whiles interacting with Ghanaians. However, Edudzi Tamakloe jokingly revealed the unexpected.
"I told someone that Yayra Koku is married. Yayra Koku is angry with me that I am harassing him. He said he will sue me for defamation. Truth is a complete defense.", Edudzi Tamakloe wrote on his Facebook wall.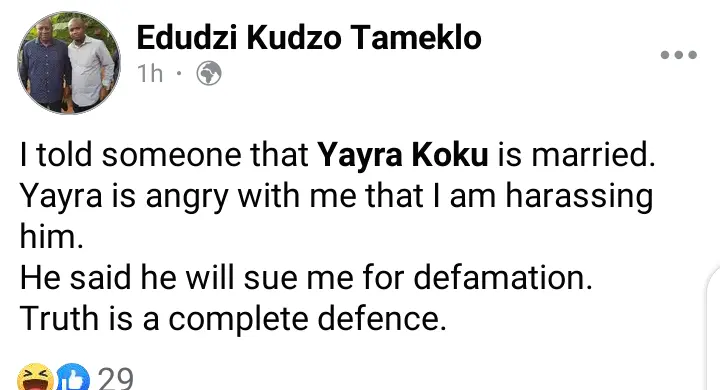 Of course, many people passed this revelation as a joke. However, some Ghanaians decided to take this revelation seriously since anything can happen so far as high-profiled personalities are concerned.
Source:GentleBlogger
About Post Author