General News
Hot Stories
TRAGEDY!! 3 Kids That Died After Drinking Energy Drinks Allegedly Poisoned By Their Father;Sad Photos Drops -CHECK.
A man who allegedly poisoned four of his five children, killing three of them, has reportedly said he has no idea what came over him. He confessed of battling with depression and mental problems.
Police in South Africa are probing the death of three brothers, Lehlogonolo, Katleho and Tebogo Khoabane, who died after consuming poisoned energy drink given to them by their father. The man is facing charges of murder and attempted murder after giving his children the drinks while they were preparing for school last week.
The boys aged 16, 13 and 6, died on Thursday morning, May 26, in Heidelberg, Gauteng. A fourth sibling is fighting for his life in hospital while a fifth didn't take the drink. It is believed the man also gave the same drink to a dog which was found dead in the morning and then attempted suicide.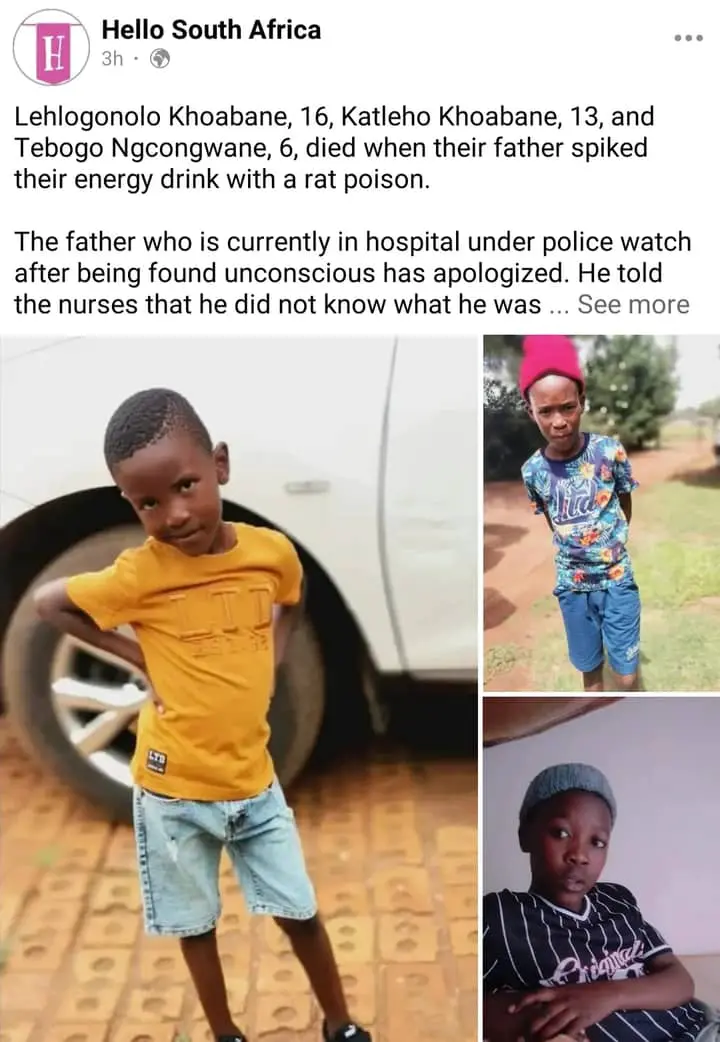 According to family spokesperson Johannes Khoabane, on Wednesday, the man waited for the children's mother to leave for work. Once she had left and the five children were getting ready for their school day, he offered them energy drinks believed to have been laced with rat poison.  
While the family was unsure why the man had allegedly killed the children, Khoabane said they believed it was deliberate. The man is said to be regretting his actions as he didn't know what came over him that made him poisoned his four children. He attempted suicide after poisoning his 3 children and dog to death. Please write rip in peace for these kids.
Source: Operanews
About Post Author