A 35-year-old man, Kwasi Abu has impregnated his 15- year-old daughter at Wasa Abreshia in the Amenfi East Municipality of the Western Region,Ghana.
According to reports, the man, who has divorced his wife, named Janet about 14-years ago, has been living with his 15-year-old daughter at some point in time.
The victim's mother, paid a visit to her ex-husband's house to check up on her daughter only to find out that her daughter has been pregnant for the past four months.
Upon interrogation, the 4-month old pregnant girl confessed that her father was responsible for her pregnancy.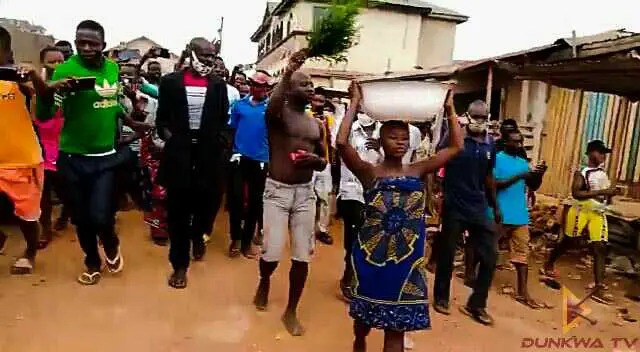 An official complaint was filed with the Chief and elders of the Wasa Abreshia community, who on Tuesday, August 4, 2020 performed the necessary rituals to appease the gods of the land for the taboo committed.
The pregnant girl and his father were paraded through the outskirts of the town and hooted at as well as part of the rituals that were performed.
It is not immediately known whether an official complaint has been lodged with the police.
Below are the videos of the rituals that were performed by the chief and his elders of the community.
Source: Operanews
About Post Author