General News
Hot Stories
Politics
Truth Finally Out;NPP Executive Confesses On Spending COVID-19 Fund;Reveals The Amount Each Executive Received; Shocking Details Dropped-CHECK.
Kevin Taylor, a journalist at Loud Silence media has been on the government's neck for the past few years. Kevin Taylor has been hitting hard on the government for failing to account for the covid-19 funds despite parliament demand for it.
Kevin Taylor has dropped an audio recording of one NPP regional executive who exposed government on how covid-19 funds were shared.
"The covid funds came, I was given ¢50,000. My quota was ¢50,000 as a regional second vice chairman. Then who doubles as parliamentary candidate for Sadnarigu, I had another ¢50,000. Making it ¢100,000″ she said.
She added that the constituencies were given an amount of ¢200,000. She continued and revealed that the regional executives had their share of the covid-19 fund. She made it clear that some received, ¢10,000, while others received ¢5,000 from the government.
Click here to listen to the full audio.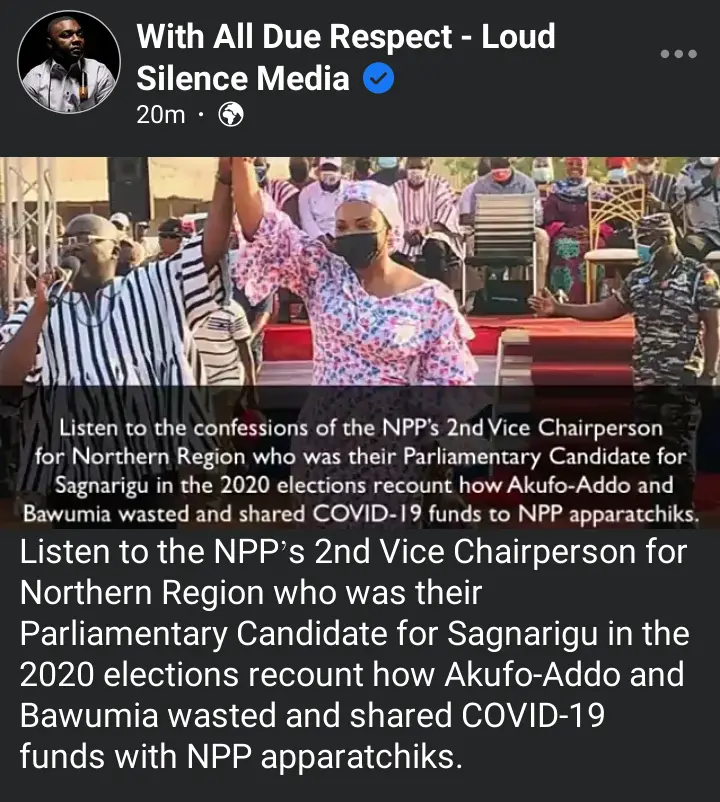 Source: Operanews
About Post Author